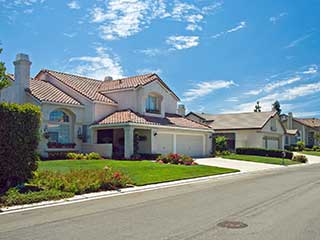 Are you having some garage door related problems? Then you've come to the right (digital) place. Our company is one of the leading service providers in California, and we are always ready and willing to help every local homeowner with any type of problem or task.
A Team You Can Trust
Your satisfaction is of the outmost importance to us. That's why we always make sure to come fully equipped with all the right tools and replacement parts when a customer calls. We want to be able to solve any problem you may be dealing with on the spot. The skills and experience we've acquired over the years allow us to do exactly that. No matter how big or complex of a problem you have on your hands, you can count on our experts to take care of it.
The Best Choice For You
If you are looking to install a new garage door or a new opener our team can save you a lot of money and time. We work with major brands like LiftMaster, Raynor and Sears, and we'll be more than happy to explain the differences between all the available models to you, and make sure you're able to make an informed decision.
Opener Repair and Maintenance
Not only can we help you choose and install a new opener, we can also fix these units when something goes wrong with them. In fact, we can do even better. With our regular maintenance services, we can actually prevent a lot of problems from manifesting. We'll realign the safety sensors, lubricate the drive-system and make sure the motor gear and the circuit board are in an excellent condition.
Whatever You Need
Remember, dealing with garage door problems can be extremely dangerous, and there is no need for you to put yourself at risk. If you're having some problems, or you want to replace an old part with a new and improved one, our team at Garage Door Repair Ramona is here to help.
All You Need To Do Is Call Us!
Affordable & Reliable Services